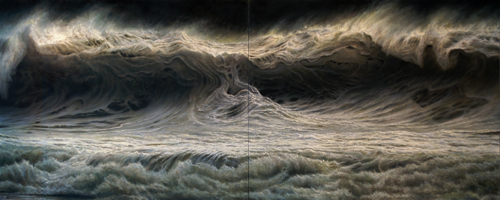 The Los Angeles Review of Books recently featured a long column on Kim Stanley Robinson, "Pacific Overture", combining a very interesting interview by Istvan Csicsery-Ronay with Stan and a review by Mark Bould of the recent short story collection The Best Of Kim Stanley Robinson. The interview focuses on the Three Californias/Orange County trilogy (The Wild Shore, The Gold Coast, Pacific Edge): how they were conceived and written, and how he views them twenty or more years later.
Some extracts:
Development all around it has been extensive, and a few years ago I went to the Orange Hill restaurant on the next hill over, and had a look around, and it was amazing to see all the mansions studding the surrounding hills and overlooking the coastal plain, still often very smoggy. It had a very Gold Coast look. [...] So in a way the landscapes of all three alternatives can still be seen. But The Gold Coast dominates. As with the books, it is the center of the triptych. It will take hundreds of years to restore that landscape to something decently livable. The Pacific Edge project is a long-term effort.
I would like to see more Californian utopian novels join Pacific Edge, Ecotopia, and the many real-world utopian efforts that were made in California in the nineteenth century. The potential exists, both locally and globally, for huge improvements in human life and our fit to the planet. They involve not just technologies but laws and economic systems; they need to go beyond capitalism and its disconnect from ecology, and that next step has to be imagined and envisioned repeatedly, no matter the literary and conceptual difficulties, to give us a better sense of how it might feel and how we might take the first steps.
What we built so fast is not a sustainable infrastructure or social structure, so it's going to have to be extensively rebuilt in the centuries to come. It may remain a kind of test tube for experimenting, and if so I hope my Three Californias helps a little in terms of cognitive mapping.
The review of The Best Of is also very insightful in Robinson's recurring themes and writing influences.
At first, I thought that the great image that accompanies the article (pictured here too) was some NASA photo of the Jupiter atmosphere... it turns out it's a painting! Storm No.2, by the awesome Ran Ortner!
---
In other news, the release date for the "Rexroth in the Sierra" collection, edited by Robinson, has been announced: April 10, 2012. The cover art is by Tom Killion, "Horse Creek Trail, Hoover Wilderness".