Ray Bradbury, 1920-2012
Submitted by

Kimon
Science fiction legend Ray Bradbury passed away recently, on June 5th 2012 at the respectable age of 91. Bradbury was of course the writer of one of the novels that defined the image of the planet Mars in the collective consciousness, The Martian Chronicles, a novel referenced in Stan's Mars trilogy.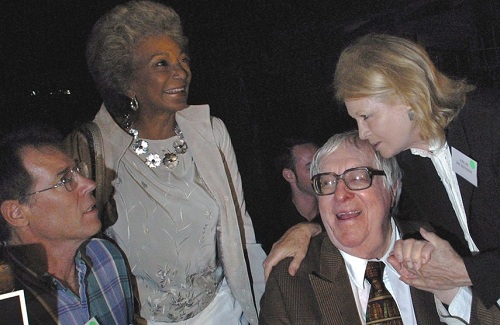 Of course, Kim Stanley Robinson and Ray Bradbury share the same home town: Waukegan, Illinois! Stan has also met and has spoken highly of Bradbury in the past. This photo (source) shows Robinson and Bradbury with actresses Nichelle Nichols and Angie Dickinson, at Bradbury's 83rd anniversary in 2003. The celebration had been covered by Planetary Radio, and included appearances by Bradbury and Robinson.
Upon Bradbury's passing, Stan had this to say to Wired:
I felt a bond with Ray Bradbury, because we were both born in Waukegan, Illinois, then were moved by our parents to Southern California when we were children. I feel that we both ended up as science fiction writers partly because of this childhood history; southern California has been a science fictional place for a very long time.
Bradbury was one of the first break-out stars from the science fiction community into mainstream American culture, and this was no coincidence but because of his open and welcoming style, and the way his science fiction always focused on the human side of things, adding strong emotions to what had previously been perhaps drier or simpler. He was a great ambassador to the world for science fiction, and was beloved in the science fiction community as well. He was a truly inspirational figure to many, because of his positive nature and his boundless enthusiasm for reading, which he conveyed so well, and for life in general. His fiction always reminds us that no matter what strange future we move into, human emotions will stay central to our story. His best stories and books will be a permanent part of American literature. We were lucky to have him and I'm sorry he's gone.
Stan also shared memories of Bradbury in this short audio interview for the Takeaway. (a shorter version aired next day).
Thanks to albinoflea for the reasearch!
---
The rockets came like drums, beating in the night. The rockets came like locusts, swarming and settling in blooms of rosy smoke. And from the rockets ran men with hammers in their hands to beat the strange world into a shape that was familiar to the eye, to bludgeon away all the strangeness, their mouths fringed with nails so they resembled steel-toothed carnivores, spitting them into their swift hands as they hammered up frame cottages and scuttled over roofs with shingles to blot out the eerie stars, and fit green shades to pull against the night.
(from "The Locusts", The Martian Chronicles)