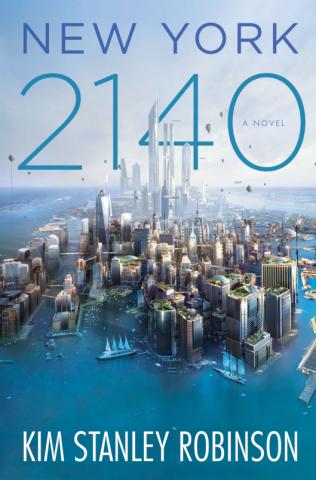 The cover for Kim Stanley Robinson's next novel, New York 2140, has been revealed! With art by Stephan Martiniere.
"NY2140" will be published on March 21 2017 (hardcover, ebook, audiobook), for the USA -- March 23 for UK and Australia. The paperback is already scheduled for February 13 2018. 480 pages.
A new vision of the future from Kim Stanley Robinson, the New York Times bestselling author of science fiction masterworks such as the Mars trilogy, 2312, and Aurora.
The waters rose, submerging New York City.
But the residents adapted and it remained the bustling, vibrant metropolis it had always been. Though changed forever.
Every street became a canal. Every skyscraper an island.
Through the eyes of the varied inhabitants of one building Kim Stanley Robinson shows us how one of our great cities will change with the rising tides.
And how we too will change.
In more news:
Editions:
Originally published in 1990, A Short, Sharp Shock remains a singular work in his canon that engages his interests in the evironment and plumbs the absurdities of the human condition while charting unique narrative terrain. This anti-oedipal edition includes an insightful introduction by esteemed science fiction scholar and critic Robert Crossley as well as a study guide, both of which encourage readers to explore the literary prowess that makes this novel a rare gem of twentieth century American literature. 
Translations:
Heyne has published translations of KSR's recent novels into German: 2312, "Schamane" (Shaman) and Aurora (out November 14 2016)
Audiobooks:
Also, audio adaptations of KSR's short stories:
Awards: Aurora was a finalist for the 2016 Locus Award for Best novel -- however, it lost to Ann Leckie's Ancillary Mercy.
Reviews:
For Aurora:
And a review in comics form! Comic Crits, by John -- he also did 2312 and Galileo's Dream.
Also a review for Green Earth: Los Angeles Review of Books: Weather Permitting, by Rebecca Evans