More NY2140 interviews & reviews
Submitted by

Kimon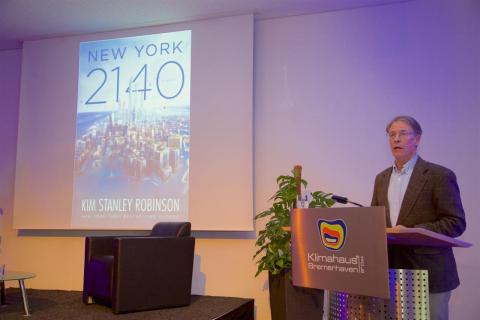 KSR's latest, New York 2140, has been out for over a month now, and has been gathering quite a few readers!
To promote the book, KSR was on tour in Europe, with events in Barcelona, in Germany and in London. Top photo from an event at Klimahaus in Bremerhaven, Germany -- photo by Fritz Heidorn/Oldenburg, Germany. More photos from KSR's stay in Bremerhaven and Berlin as well as a couple of short videos can be found here.
In London, an event united 3 excellent writers, KSR, Adam "Yellow Blue Tibia" Roberts and Francis "Red Plenty" Spufford (whose latest novel Golden Hill also takes place in Manhattan, but in the 18th century!). A report on that discussion over here.
This interview for NYMag covers many NYC topics as one would expect, especially the detailed research on-site, i.e. walking around the city and getting to know its history.
I thought of the book eventually as a comedy of coping, and to do that I picked a time, or perhaps 40 years after the disaster itself. [...] science fiction has to imagine the people who come after, when the situation will be natural, whatever it is. [...] I was invoking a somewhat nostalgic, more romantic New York of the imagination that's more human scale, more neighborhood-focused, more localized, and more kind of hand-crafted, you might call it. 

I wanted a finance novel that was heavily based on what lessons we learned — or did not learn — from the crash of 2008 and 2009. All science-fiction novels are about the future and about the present at the same time.

[On Franklin the trader being a sympathetic character] I did that on purpose. People who succeed by using the currently shifting rules of capitalism are not villainous, nor have they broken the law or cheated. [...] That point needed to be raised because, as Orson Welles once pointed out, everybody has their reasons. [...] I must admit, in the first draft he was more of a jerk, but he began to step on the toes of the citizens. So with the changing of frighteningly few sentences I made him more of a geek. Not that different than my scientist characters who are funny because they try to evaluate social life as if we're nothing but a theoretical problem in physics or sociobiology. I like my finance guy.

Can you legislate fundamental change? Essentially we need fundamental change, we have to hope the answer is yes. Because the alternatives to legislation are all terrible. Legislation is by far the best method for big social change. Get the right congress in and the right World Trade Organization technocrats in and you change.
In this interview with Inverse, "The Man who put Science in Science Fiction", KSR talks about his writing, his method for world-building, these "infodumps" he's well known for (and criticized (and praised) for), his characters in NY2140, his impressive use of epigraphs and quotes in this novel.
Beyond the depiction of the future, what is this novel about?

It's about finance, and climate change, and New York as a place, and those particular characters, and what we could do now to influence events to make a better future for the people yet to come. Utopian climate change fiction: the obvious next hot genre.
In the Science Friday podcast, KSR describes daily life in his future drowned New York. A "citizen" chapter of the novel can also be read at Science Friday.
NY2140 as well as climate science, urban planning, urban agriculture and environmental humanities were discussed in a panel discussion at Rutgers University with KSR and Rutgers researchers. Here's a report from that with quotes from faculty members.
A surprising pairing took place in an event hosted by the Arthur C. Clarke Center for Human Imagination at UCSD -- although not so surprising when one considers they are both fan favorites of the SF&F genre: George "A Song of Ice and Fire" R. R. "Game of Thrones" Martin and Kim Stanley Robinson! Here's a summary of what was uttered at the event, along with some tease from both authors on what's next: 
Robinson teased the audience early on with the prospect of a film or television adaptation of his Mars Trilogy at some point in the future. [...] As to whom [Martin] would like to see assume the Iron Throne, Martin left the audience with a message that could perhaps serve both to sum up the entirety of the event and to annoy any avid fans in attendance: "Keep reading."
Also: plenty of reviews of NY2140 are out!
John Clute for Strange Horizons: "New York 2140 reads almost like a game. It is a scherzo, something happening all the time [...] astonishingly full of joy: the joy of telling; the joy of sharing the reasoning behind events; the joy of inducing good people to cohabit."
Niall Alexander for Tor.com: "At six hundred plus pages, New York 2140 is somewhat short on plot for such a long novel, but it's absolutely, positively packed with characters rife with life [...] characters little and large cross paths, and as the narrative threads we'd thought independent—inconsequential, even—gather into something greater because they're suddenly something shared."
Cory Doctorow for BoingBoing: "with New York 2140, Robinson starts to connect the dots between these different futures [2312, Aurora] with a bold, exhilarating story of life in a permanent climate crisis, where most people come together in adversity, but where a small rump of greedy, powerful people get in their way."
Gary K. Wolfe for Locus: "As such colorful and eccentric characters might suggest, a good portion of New York 2140 has an oddly Dickensian feel to it [...] there have been more than a few environmental catastrophe tales set in a future New York, but possibly none of them have been this interesting." (also for the Chicago Tribune)
And some others:
The usual linkstorm ends here. More will follow. In the meantime, you can start your own petition for a Mutt and Jeff vignette spinoff!