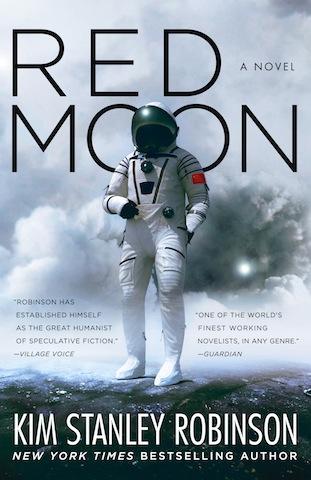 Kim Stanley Robinson's next novel, "RED MOON", is set for publication in hardcover by Orbit in October 2018 (October 23 for US, October 25 for UK).
Remember Ta Shu from Antarctica? Refresh your memory because he is back! Remember the quantum AIs from 2312? Prepare to meet their ancestors! You might also want to have a crash course in pinyin.
The official synopsis reads:
IT IS THIRTY YEARS FROM NOW, AND WE HAVE COLONIZED THE MOON.

American Fred Fredericks is making his first trip, his purpose to install a communications system for China's Lunar Science Foundation. But hours after his arrival he witnesses a murder and is forced into hiding.

It is also the first visit for celebrity travel reporter Ta Shu. He has contacts and influence, but he too will find that the moon can be a perilous place for any traveler.

Finally, there is Chan Qi. She is the daughter of the Minister of Finance, and without doubt a person of interest to those in power. She is on the moon for reasons of her own, but when she attempts to return to China, in secret, the events that unfold will change everything - on the moon, and on Earth.

RED MOON is a magnificent novel of space exploration and political revolution from New York Times bestselling author Kim Stanley Robinson.
And no, this is not the zany George "Freds" Frederickson from Escape From Kathmandu!
The cover was revealed by Orbit in March, and was designed by Lauren Panepinto.
And here is how the novel opens:
Someone had told him not to look while landing on the moon, but he was strapped in his seat right next to a window and could not help himself: he looked. Quickly he saw why he had been told not to—the moon was doubling in size with every beat of his heart, they were headed for it at cosmic speed and would certainly vaporize on impact. A mistake must have been made. He still felt weightless, and the clash of that placid sensation with what he was seeing caused a wave of nausea to wash through him. Surely something was wrong. Right before his eyes the blossoming white sphere splayed out and became a lumpy white plain they were flashing over. His heart pounded in him like a child trying to escape. It was the end. He had seconds to live, he felt unready. His life flashed before his eyes in the classic style, he saw it had been nearly empty of content, he thought But I wanted more!

The elderly Chinese gentleman strapped into the seat next to him leaned onto his shoulder to get a look out the window. "Wow," the old one said. "We are coming in very fast, it seems."

The white jumble hurtled toward them. Fred said weakly, "I was told we shouldn't look."

"Who would say that?"

Fred couldn't remember, then he did: "My mom."

"Moms worry too much," the old man said.

"Have you done this before?" Fred asked, hoping the old man could provide some insight that would save the appearances.

"Land on the moon? No. First time."

"Me too."
Release in five months...
In other news: New York 2140 has been nominated for both Hugo and Locus Awards!