More readings and discussion events with Robinson, still in the USA but this time on the East Coast: at Duke University, at Durham, North Carolina.
A discussion on Science Fiction and Ecology with Stan Robinson
Co-organizer Gerry Canavan says:
"We're coming back for another semester of Ecology and the Humanities events, sponsored by the Franklin Humanities Institute and organized by the editors of Polygraph 22. The group's first event of the spring will be a conversation with science fiction author Kim Stanley Robinson on "Science Fiction and Ecology." There will be a short reading for this event, the draft of the interview conducted between Stan and the Polygraph 22 editors; contact me if you're planning to attend and would like a copy."
Thursday, January 28, 2010, 7-9 pm
John Hope Franklin Center 240, Duke University
Durham, North Carolina
Also, Robinson will be speaking on "Science, Religion, Ideology" in the event "Competing Cosmologies, Effecting Worlds: Intersections of Science and Religion" along with another science fiction author, Nisi Shawl, and two academics, Bruce Lincoln and Michael Taussig.
Friday, January 29, 2010, 10am-5pm
(KSR speech & Q&A 10:15am-11:15am)
Breedlove Room, Perkins Library, Duke University
Durham, North Carolina
Of course, if you attend any of these events, feel free to drop a comment here!
Stan Robinson wrote a Galileo-related article for Suvudu, a "multi-contributor blog with the mission of providing information, content, and free ebook downloads to fans of Science Fiction and Fantasy".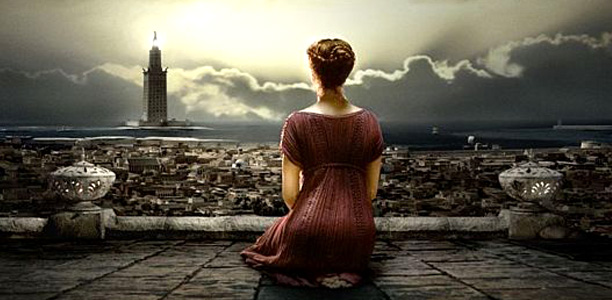 If the themes of Galileo's Dream interest you then you might want to see "Agora", a 2009 film by Spanish director Alejandro Amenábar (Tesis, Abre los Ojos, The Others, Mar Adentro) starring Rachel Weisz. "Agora" (picture above) deals with the life of Hypatia, Greek philosopher and astronomer in Alexandria, at around the end of the 3rd century AD, at the turning point between the Greek/Roman Antiquity and the Christianity-dominated Middle Ages, and tackles themes dear to Robinson as well: science vs religion, or perhaps empathy vs intolerance, politics, history of religions and history of civilisations, astronomy... A truly excellent film that did not get the cinema release it deserved.
Finally, Jo Walton wrote a great piece on Pacific Edge for the (rich) blog of Tor, KSR's publisher for up to that novel (1990). "Water, love, and meetings" looks on utopia and and simply concludes "we're no closer to utopia—or if we are, then not the one Robinson was after".
"Central to Tom and to what Robinson is doing is his meditation on his eighties Californian childhood, growing up in utopia, in a free country full of opportunity, but a utopia that was grounded in exploitation in the Third World and pollution of the planet. The key sentence, as he vows to work for a better world is: "If the whole world reaches utopia, that dream California will become a precursor and my childhood is redeemed." That's imperialist guilt in a nutshell, but in this book with its small scale issues of water in California and softball games we're constantly being reminded that the rest of the planet is there, in a way that's quite unusual in anglophone SF."