Image: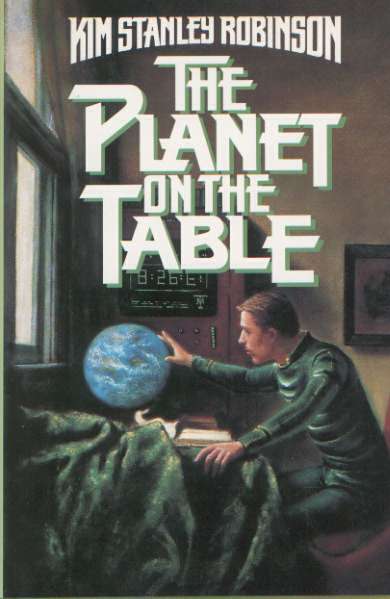 The Planet On The Table is Kim Stanley Robinson's first short story collection, published in 1986. It consists of an introduction and 8 short stories, all of which were previously published in magazines. It contains the following stories:
Venice Drowned
Mercurial
Ridge Running
The Disguise
The Lucky Strike
Coming Back to Dixieland
Stone Eggs
Black Air
The title of the collection shares its name with the 1953 poem from Wallace Stevens.
Today it is considered to be no longer available.
Publication History
Tor Books, hardcover, July 1986
Tor Books, paperback, July 1987
Futura, paperback, August 1987
J'ai Lu, as La Planète Sur La Table (French translation), May 1988
Bastei-Lübbe, as Geschöpfe der Sonne (German translation), 1988
Editorial Caminho, as O Planeta sobre a Mesa (Portuguese translation), 1989
Tor Orb, included in Remaking History And Other Stories, August 1994
J'ai Lu, as La Planète Sur La Table (French translation), January 1999
Reviews
Locus #302, March 1986, Debbie Notkin
Fantasy Review #90, April 1986, Wendy Bousfield
Publishers Weekly, May 1 1986
The Washington Post, May 25 1986, Gregory Frost
The New York Times, July 29 1986, Gerald Jonas
Isaac Asimov's Science Fiction Magazine #111, December 1986, Baird Searles
Science Fiction Review #61, Winter 1986, Fernando Q. Gouvea
Foundation #40, 1987, Roz Kaveney
Paperback Inferno #68, October 1987, Colin Bird
The Magazine of Fantasy & Science Fiction, November 1987, Orson Scott Card
Thrust #28, Fall 1987, Pascal J. Thomas
Fiction #402, October 1988 (France), Pascal J. Thomas
Short Form #3/4, 1989, Judy Geary
Resources