Thinking Community + Blue River Quorum
Submitted by

Kimon
Last October, the "Eye of the Storm: Re-imagining Ethics for Changing Times" project gathered in a "Thinking Community" event, close to Oregon State University.
Our premise is that old, human-centered moral systems have allowed us to damage the Earth, to our own peril and the peril of countless ecosystems and species. This cannot continue. We must find new ways to understand our moral responsibilities to one another, to the Earth, and to the future. Can these perilous times prompt us to discover and create a new set of ideas about how we ought to live?
The gathering was sponsored by Oregon Humanities, Oregon State University's Environmental Humanities Initiative and the Spring Creek Project for Ideas, Nature, and the Written Word.
Among the many participants was Kim Stanley Robinson.
Along with the gathering, the Blue River Quorum was also convened.
We were philosophers, scientists, writers, poets, students, and professors of various bents. Over four intense days we thought collaboratively and open-mindedly, we learned from one another, and we worked hard to create something together none of us could create alone.
(Blue River Quorum member Michael P. Nelson, in Minding Nature, Vol. 4, No. 3)
The Quorum resulted in the Blue River Declaration: Ethics for a Changing Planet, a manifesto on the individual, the community, and the interconnectedness with the rest of the Earth.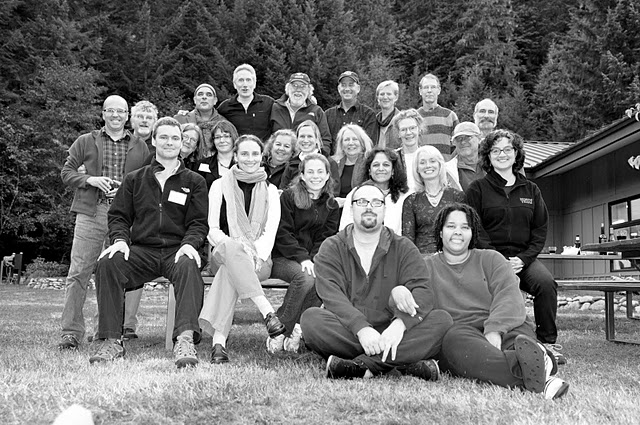 It is available as a pdf document or a printer-friendly 3-panel brochure. Well worth reading, pondering and spreading around!
The necessity of achieving a concordance between ecological and moral principles, and the new ethic born of this necessity, calls into question far more than we might think.  It calls us to question our current capitalist economic systems, our educational systems, our food production systems, our systems of land use and ownership. It calls us to re-examine what it means to be happy, and what it means to be smart.  This will not be easy.  But new futures are continuously being imagined and tested, resulting in new social and ecological possibilities. This questioning will release the power and beauty of the human imagination to create more collaborative economies, more mindful ways of living, more deeply felt arts, and more inclusive processes that acknowledge the ways of life of all beings. In this sheltering home, we can begin to restore both the natural world and the human spirit.
A video of the gathering is available from OSU, and among many nice things it includes (from about 32min in) a reading of a draft of the Declaration by all the members of the Quorum (pictured above):
J. Baird Callicott, Madeline Cantwell, Alison Hawthorne Deming, Kristie Dotson, Charles Goodrich, Patricia Hasbach, Jennifer Michael Hecht, Robin Wall Kimmerer, Katie McShane, Kathleen Dean Moore, Nalini Nadkarni, Michael P. Nelson, Harmony Paulsen, Devon G. Pena, Libby Roderick, Kim Stanley Robinson, Fred Swanson, Bron Taylor, Allen Thompson, Kyle Powys Whyte, Priscilla Solis Ybarra, Gretel Van Wieren, and Jan Zwicky.