2312 is out!
Submitted by

Kimon
2312 is now available in stores!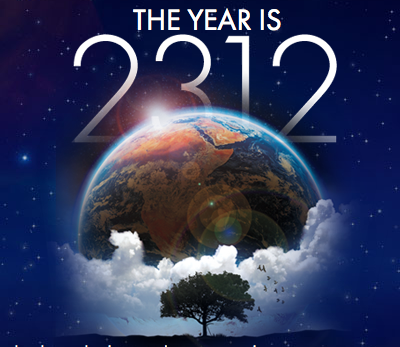 The "official site" for the book from Orbit is here. One of the chapters has been converted into a great little animation! Head over there to read and see the recipe on how to make a terrarium!
People at Orbit have been blogging on 2312. If you want 2312 wallpapers and 2312 HQ design elements, here they are! If you want the story behind the design of the cover for 2312, Kirk Benshoff explains it all! If you want to read the first praise the novel has got, here it is! If you want to read the prologue, it's over here!
"The sun is always just about to rise."
The book counts 576 pages. It is split in many chapters of several types:
The main story itself, which follows Mercurial Swan Er Hong and Saturnine Fitz Wahram.
Lists: KSR has been accused (or praised) of too many infodumps, here he takes that comment and runs with it with chapters that are just that, lists of things!
Excerpts: Think of browsing through a scientific journal full of abstracts, only that you only concentrate on small snippets of text.
Places: Bodies in the solar system that have been settled by humans.
...and another one that would be spoilerish to reveal here!
Many readers of the Mars trilogy will sometimes feel that 2312 takes the solar system of Blue Mars and runs wild with it!
The 2312 page on this site is here, where I will link to all reviews and related material as they appear. You can leave your own review in the comments there! The 2312 MangalaWiki page is here.
Stay tuned as the 2312 promo tour kicks in full gear!