2312 interviews & reviews V
Submitted by

Kimon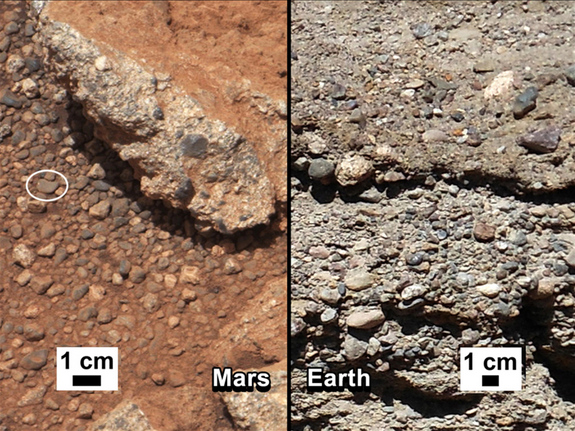 Pictured above: comparison of Martian rock outcrops with their Terran equivalent, proof of water on Mars by NASA's Curiosity rover!
A whole summer's worth of catching up with 2312 and Kim Stanley Robinson press coming up!
FDL Book Salon hosted a live web chat with Stan, where he interacted with members at length on a huge number of subjects! Highly recommended!
Blue Mars and the Mars trilogy is more utopian in many ways, and 2312 shows the darkening of the last 15 years of global history, the sense that things will stay a mess for a long time. But this may be true at the same time that progress is made in other areas, which ultimately may prevail. So I feel like 2312 also is utopian, but in the ongoing redefinition of utopia I have long been suggesting that it's a name for a particular kind of struggle, and that it will go on for a long time and been pretty painful throughout. But with some good results!
My research these days is mostly on the internet, but also I phone scientists I know often, and I got Chris McKay to convene a lunch group at NASA/Ames in Mountain View and I went down and asked the eight or nine people there a couple hours of questions, it was great help.
SF Signal interviewed Stan on 2312, Mars and climate change:
One change I can say for sure, since the writing of the Mars trilogy:  I need always to say very clearly that Earth is and always will be the center of the human story, that Mars and the rest of the solar system can be helpful and interesting (even just as thought experiment  setting) but Earth has to be our focus for the next two centuries for sure, and really, for all history to come.  We all should remember that and act on that.
The About SF podcast interviewed Stan at length, with two episodes available totalling over an hour! Part 1 and Part 2 available. He discusses his research about the planet Mars for his trilogy, his inspiration for writing the novels, and his ambitions for writing science fiction.
Stan was interviewed for UK literary magazine Structo, Issue Eight, you can order it on their site.
Stan also presented 2312 on Google Talks, and answered audience questions.
Marina Abramovic, performance artist and inspiration for the character of Swan in 2312, mentioned Swan in an interview for the Wall Street Journal!
I also want to create a platform to work with scientists and with new technology. I had lunch a few months ago with Kim Stanley Robinson, a science-fiction writer who gave me a new book he wrote called "2312." I'm one of the characters in the book. He said, "I saw you at MoMA, and you are great for creating galactic troubles." So I am now doing performances on an asteroid near Mercury, just so you know.
---
With over four months in bookstores around the world, 2312 keeps getting reviews and reviews.
io9:
If this novel sounds like your typical post-human epic, however, it isn't. Absolutely it has space battles and AI orgies and moons being chopped up and hurled at planets. But it's also full of strange prose-poems about science and consciousness. And every few chapters, Robinson gives us a history lesson in fragments of text that hint at all the ways humanity has changed over the 300 hundred years between now and the year when the story takes place. In this way, 2312 is able to be more than just a simple story. It's a future history, a dream of all the complicated ways we might muddle through as a species, spreading out into space without ever really fixing all the old problems that have nearly extinguished us again and again.
It is a real rarity in contemporary fiction – especially genre fiction, but also in TV and movies – to find characters who are totally actualized, who speak with their own voice instead of the author's voice, who are not just robots built to drive the machinery of the plot. Instead, each character is unique and together they interact in ways that totally make sense given this uniqueness.
And then there are even more reviews around for your reading pleasure! Moon and Back, Blog Critics, Wind City Times, Experts Column, Portland Book Review, Cross Roads, Yatterings, Otago Daily Times, Dansville Online, Sunny Reads, George Kelley, Fill Your Bookshelf, Paper Droids, Pease Exchange, Omnivoracious, MC Reviews, A-Kon, and a video review by Olivier's Book Club (part 1, part 2)....!