Shaping the Future with Science Fiction and Climate Fiction
Submitted by

Kimon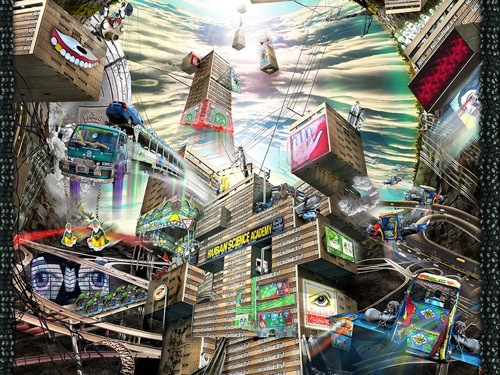 Over May 16-18, the Smithsonian Magazine organized "The Future Is Here: Science meets Science Fiction | Imagination, Inspiration and Invention" – an event with many panelists, from scientists and engineers and astronauts to inventors and actors and writers – and Kim Stanley Robinson was among them, for a panel on "Humanity in the Solar System".
The event resulted in an article in the Smithsonian Magazine, on "How America's Leading Science Fiction Authors Are Shaping Your Future", with interviews of SF authors Kim Stanley Robinson, Cory Doctorow, William Gibson, Ursula Le Guin, Ted Chiang or Neal Stephenson, on the relationship between science, technology and SF, the utopian and dystopian strands of SF and on how SF shapes our imagination on the future. As Delany says,
"The variety of worlds science fiction accustoms us to, through imagination, is training for thinking about the actual changes—sometimes catastrophic, often confusing—that the real world funnels at us year after year. It helps us avoid feeling quite so gob-smacked."
According to Robinson:
"Science fiction represents how people in the present feel about the future," Robinson says. "That's why 'big ideas' were prevalent in the 1930s, '40s and partly in the '50s. People felt the future would be better, one way or another. Now it doesn't feel that way. Rich people take nine-tenths of everything and force the rest of us to fight over the remaining tenth, and if we object to that, we are told we are espousing class warfare and are crushed. They toy with us for their entertainment, and they live in ridiculous luxury while we starve and fight each other. This is what The Hunger Games embodies in a narrative, and so the response to it has been tremendous, as it should be."
(Picture on top by Mehreen Murtaza)
Robinson along with Gerry Canavan (assistant professor of English at Marquette University) recently edited together a book of "essays exploring the relationship between environmental disaster and visions of apocalypse through the lens of science fiction", Green Planets. Synopsis:
Contemporary visions of the future have been shaped by hopes and fears about the effects of human technology and global capitalism on the natural world. In an era of climate change, mass extinction, and oil shortage, such visions have become increasingly catastrophic, even apocalyptic. Exploring the close relationship between science fiction, ecology, and environmentalism, the essays in Green Planets consider how science fiction writers have been working through this crisis. Beginning with H. G. Wells and passing through major twentieth-century writers like Ursula K. Le Guin, Stanislaw Lem, and Thomas Disch to contemporary authors like Margaret Atwood, China Miéville, and Paolo Bacigalupi—as well as recent blockbuster films like Avatar and District 9—the essays in Green Planets consider the important place for science fiction in a culture that now seems to have a very uncertain future. The book includes an extended interview with Kim Stanley Robinson and an annotated list for further exploration of "ecological SF" and related works of fiction, nonfiction, films, television, comics, children's cartoons, anime, video games, music, and more.
Contributors include Christina Alt, Brent Bellamy, Sabine Höhler, Adeline Johns-Putra, Melody Jue, Rob Latham, Andrew Milner, Timothy Morton, Eric C. Otto, Michael Page, Christopher Palmer, Gib Prettyman, Elzette Steenkamp, Imre Szeman.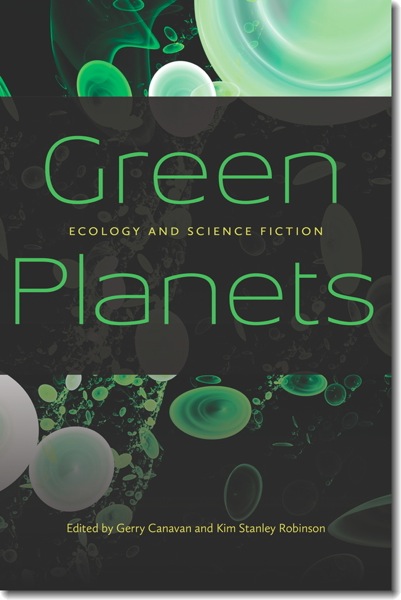 Gerry Canavan describes the book thusly:
The essays in Green Planets are predicated on the proposition that two hundred years of SF can help us collectively "think" this leap into futurity in the context of the epochal mass-extinction event called the Anthropocene (which the literary theorists more simply call "modernity"). SF is our culture's vast, shared, polyvocal archive of the possible; from techno-utopias to apocalypses to ecotopian fortunate falls, it is thetransmedia genre of SF that has first attempted to articulate the sorts of systemic global changes that are imminent, or already happening, and begins to imagine what our transformed planet might eventually be like for those who will come to live on it. Especially taken in the context of escalating ecological catastrophe, in which each new season seems to bring with it some new and heretofore-unseen spectacular disaster, my coeditor's well-known declaration that in the contemporary moment "the world has become a science fiction novel" has never seemed more true or more frightening. Indeed, such a notion suggests both politics and "realism" are now always "inside" science fiction, insofar as the world, as we experience its vertiginous technological and ecological flux, now more closely resembles SF than it does any historical realism…
A kind-of-excerpt of the book by Canavan, an essay on "Dystopia, Anti-Utopia, and the End of the World", is up at SF Signal!
Staying on the topic of sci-fi, "cli-fi" and scientific news, writer Tony White links all these on the occasion of the publication of the UN's Intergovernmental Panel on Climate Change Fifth Assessment Report – a big event that happens about every seven years, and with each report raising the level of certainty that climate change is happening, that it is man-made, and that the situation is more and more urgent for us to move towards adapting our energy system, infrastructures, ways of life, to emit less. In discussing the publication, White discusses the Climate Outreach Information Network and references Robinson's talks and their role in informing and inspiring change (specifically, Stan's talk at MOMA/PS1 in New York last year).
The Long View of climate change is also the focus of this New York Times article, where Andrew C. Revkin interviews to paleoclimatologist Curt Stager, Robinson, and astrobiologist David Grinspoon on how humans will deal with climate change impacts – our paleolithic roots (Shaman) and the Venice-like New York (2312) are of course referenced!
Coming soon: Some more panels with Stan. There will be videos!