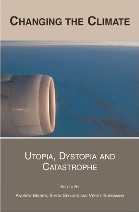 Last year, Stan Robinson participated in the conference "Changing the Climate: Utopia, Dystopia and Catastrophe" at Australia's Monash University. One year later, several of the talks given there have resulted in a publication by the Arena Journal: Issue 35/36 (2011) is dedicated on exactly this topic.
Changing the Climate explores nature and environment, power and society, narrative and image in meditations on ecology, ecocriticism, science and speculative fiction, film and contemporary art. With a chapter by Kim Stanley Robinson.
The paper in this issue cover a wide range of contemporary art, from literature to film. There is an entire section dedicated to Kim Stanley Robinson, appropriately entitled "Science in the Capital"! Apart from Robinson's contribution, "Remarks on Utopia in the Age of Climate Change", this part also includes a paper by Tom Moylan, "N-H-N': Kim Stanley Robinson's Dialectics of Ecology", and another by Chris Palmer, "Free Exchange and Dark Secrecy in the Capital". All three papers must be reworkings of some sort of the speeches they gave at the conference. The abstracts are accessible via the above links.
The Arena Journal has massively published on utopias and the future previously: Issue 25/26 (2006) was dedicated to "Imagining the Future: Utopia and Dystopia" and Issue 31 (2008) was dedicated to "Demanding the Impossible: Utopia and Dystopia".