Of interviews, panels and hyper links
Submitted by

Kimon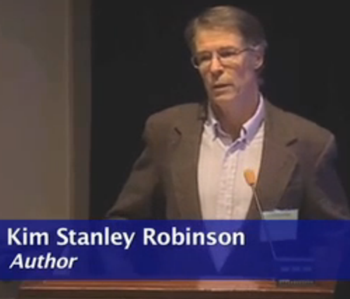 It seems that anything you do nowadays will end up online! Videos or texts around a number of older conferences where Kim Stanley Robinson participated found their way on the internets. A great thanks to frequent contributor Albinoflea for a great deal of the links!
First and foremost, Stan has reworked the talk he gave at the 2010 "Changing the Climate: Utopia, Dystopia and Catastrophe" conference in Melbourne. The resulting article, "Remarks on Utopia in the Age of Climate Change", was published in the Arena Journal and it is fully accessible online.
In 2010, Stan also participated in a workshop by the Space Studies Board, "Sharing the Adventure with the Public: The Value and Excitement of 'Grand Questions' of Space Science and Exploration". The full video of the panel "What Could the Future Hold for Humans in Space?" is online (or at least I only found it now). The participants were:
Elizabeth Cantwell, National Research Council Decadal Survey on Biological and Physical Sciences in Space
Kim Stanley Robinson, spoke of distinguishing when speaking about the human presence in space between a decade-view, a century-view, a millennium-view
Jeff Bingham, US Senate Committee on Commerce, Science and Transportation (Republican), gave a view of how space exploration programs are voted and funded
Marc Kaufman, Washington Post journalist
Linda Billings, George Washington University School of Media and Public Affairs
Q&A
A text summary of this panel along with all the other panels of this workshop is also available online.
In 2011, Stan spoke at the Center for Values in Medicine, Science and Technology at the University of Texas Dallas. His talk, "Valuing the Earth and Future Generations: Imagining Post-Capitalism", is also online.
Speaking of post-capitalism, that was one the topics in the 2011 Rethinking Capitalism conference at UC Santa Cruz, and Stan wrote up a few thoughts following his participation in the conference for the Rethinking Capitalism newsletter.
An interview with Stan also appears in "The Gothic Imagination: Conversations on Fantasy, Horror, and Science Fiction in the Media", by John C. Tibbetts, professor of film at the University of Kansas, a hardcover book published in October 2011 (review). It looks like it includes a revised interview of a 1994 interview, "Footprints on the Sands of Mars: Science Fiction Writers Explore the Red Planet", which by the way is available on Tibbetts' site.
Stan, a Californian, also appeared in a recent documentary for KVIE, a public television channel, "California Heat", on issues of water and extreme heat, climate change and water over-exploitation in California. Stan's segment is available online (there's even a transcript of the whole documentary!).
And finally, the novella "A Short, Sharp Shock" has received the audio book treatment by Blackstone Audio.
That should keep you busy till 2312!