Configurations & Convergences
Submitted by

Kimon
An entire double-issue of the Configurations journal (Volume 20, Number 1-2, Winter-Spring 2012) that just came out is dedicated to Kim Stanley Robinson's work, and comes to enrich the collection of academic essays and analyses on KSR with not just the "usual" focus on the Mars trilogy, but on Science in the Capital and Galileo's Dream as well! Here is the awesome list of articles:
Introduction (Lisa Yaszek, Doug Davis)
"How to go forward": Catastrophe and Comedy in Kim Stanley Robinson's Science in the Capital Trilogy (Robert Markley)
Archaeologies of the "Amodern": Science and Society in Galileo's Dream (Sherryl Vint)
Greener on the Other Side: Science Fiction and the Problem of Green Nanotechnology (Colin Milburn)
Making Huckleberries: Reforming Science and Whiteness in Science in the Capital (De Witt Douglas Kilgore)
Reading and Revolution on the Horizon of Myth and History: Kim Stanley Robinson's Mars Trilogy (Kenneth Knoespel)
Notes on Extinction and Existence (Eugene Thacker)
Possible Mountains and Rivers: The Zen Realism of Kim Stanley Robinson's Three Californias (Istvan Csicsery-Ronay Jr.)
"Science's Consciousness": An Interview with Kim Stanley Robinson (Doug Davis, Lisa Yaszek)
Kim Stanley Robinson Maps the Unimaginable: Critical Essays by William J. Burling (review) (Jason W. Ellis)
2312 by Kim Stanley Robinson (review) (Kathleen Ann Goonan)
After the recent BASFA nomination, 2312 was just nominated for the 2013 Nebula Award for best novel! Though I have to say, it might be an SF and Fantasy award, but looking at the rest of the nominees I don't see much SF...
In December, Stan was invited in the Humanity+ conference in San Francisco. His talk, on science as a utopian project and essentially arguing against the technological "high" or the obsession with technology for technology's sake, came out on Youtube.
Some more 2312 reviews here and here.
2312 translations are coming! It will be released in German (Randomhouse/Heyne, paperback) on 11 March 2013. It's set to be released in June 2013 in Spanish (Minotauro). No news from the French, who are usually the first. AST (Russia) and Fabryka Slow (Poland) have optioned the rights but no date has yet been announced.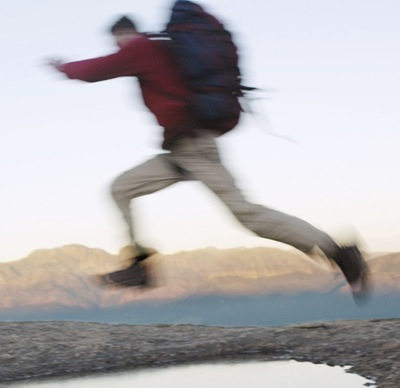 Stan wrote an article for Arc, a digital quarterly from the makers of New Scientist. In issue 1.4, "Forever alone drone", "Unreliable Narrator" column, Stan's feature is "Shedding skins". Klaus Tiedge illustrates (photo on the right). A short excerpt:
Back in the 1970s, when I like many other hippies began to backpack in the Sierra Nevada of California (the greatest backpacking mountains on Earth, but that's a topic for a different essay), backpacks often weighed fifty pounds, and when I took mine off at the end of a day's walk and flexed my shoulders, it sometimes felt like I was going to float off into the sky.
So all along there were people thinking things could be different – in a word, lighter. And as the years have passed, my aging cohort has gotten too brittle to carry the old weights happily, while at the same time younger hikers have been attempting continent-crossing feats that have transformed backpacking from a hippie ramble into a postmodern extreme sport. These long-distance hikers often walk more than a marathon every day for months on end, and for them every ounce matters. So a new design ethos has sprung into being to serve this need. The important thing to note here is that it came about as a result of a shift in people's desires and in their thinking about what matters, not from a change in materials, or from some kind of inherent technological progress operating on its own. The raw materials have gotten a little stronger and lighter, but not much; they are still mostly nylon and down and various light metals. And really there's no such thing as inherent technological progress. It's our philosophies that change, and then we act on them. This is what makes the ultralite movement suggestive when we go on to think about the rest of our lives. Because we always carry our houses, one way or another.
Kim Stanley Robinson will be appearing at the University of Arizona on April 5, on Convergences and the technological sublime.
Noted science fiction author Kim Stanley Robinson will be the capstone for the Convergences themed-year program.  Convergences has focused on The Technological Sublime 2.0 and has been facilitated by Christopher Cokinos.  Robinson will read on Friday, April 5, at the Poetry Center.  Time is likely going to be 7 p.m. but stay tuned for more details. The author of such notable works as the Mars trilogy, The Years of Rice and Salt, The Wild Shore: Three Californias and, most recently, 2312, Robinson is an internationally known writer who brings an incisive mind and literary style to his science fiction.  Kim Stanley Robinson is a winner of the Hugo, Nebula, and Locus Awards and holds a Phd in English from the University of California, San Diego, where he studied with Frederic Jameson and wrote about the novels of Philip K. Dick.
See the calendar (left) for more details.
That's all for now!