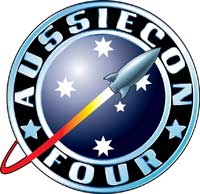 Kim Stanley Robinson will be a guest of honor at the 68th World Science Fiction Society Convention in Melbourne, Australia: the Aussiecon Four. The event will be taking place at the Melbourne Convention and Exhibition Centre in just under five months, in September 2-6, 2010, so for those not living Down Under start planning early! Other guests of honor will be artist Shaun Tan and organization veteran Robin Johnson. At the Convention will also be awarded the 2010 Hugo Awards, one of the best known awards in the science fiction and fantasy field; Galileo's Dream is not among the nominees, however they are: Cherie Priest, China Miéville, Robert Charles Wilson, Catherynne M. Valente, Robert J. Sawyer and Paolo Bacigalupi. Voters are supporting and attending members of the Convention.
Right before Aussiecon will also be taking place a conference at the Monash University of Melbourne titled "Changing the Climate: Utopia, Dystopia and Catastrophe" -- a very topical title for Robinson readers -- and it is actually the Fourth Australian Conference on Utopia, Dystopia and Science Fiction. It will take place from August 30th to September 1st, 2010. Mr. Robinson will be one of the keynote speakers, along with writer and critic John Clute and utopian studies scholar Tom Moyan and many others. There is also a Call For Papers in case you'd like to weigh in.
---
In other news, the first multi-cellular organisms living in an oxygen-free environment have been discovered not in Mars, Europa or elsewhere but no further than in the Mediterranean Sea! (Nature article, BMC abstract) Life without oxygen: another environment previously considered too extreme for life has been proven otherwise!