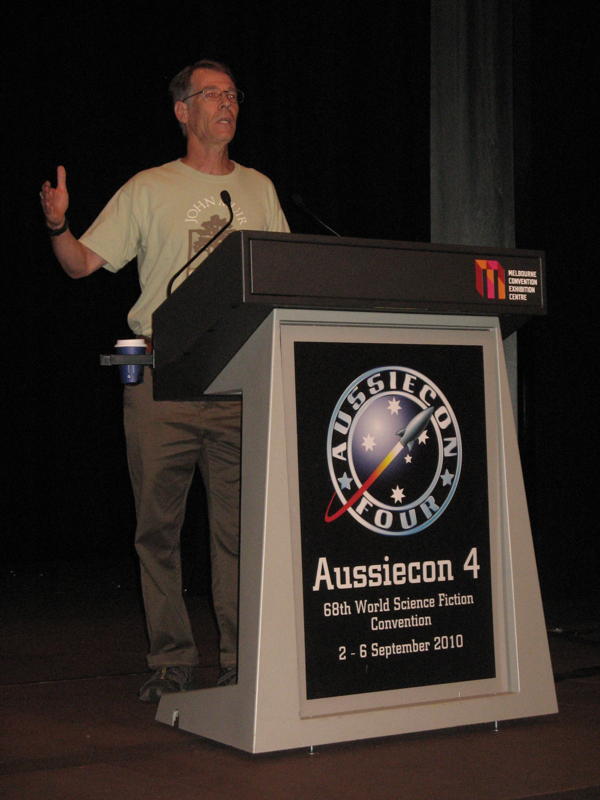 Kim Stanley Robinson delivered his Guest of Honour Speech at the WorldCon/AussieCon 4. Since interviewer Sean Williams was unable to make it, Stan conducted both the roles of interviewer and interviewee, jacket on/jacket off style!
An audio of the speech can already be found here (direct mp3 link), courtesy of writer and journalist Gary Kemble. Gary also wrote a piece on the speech for the Australian news service ABC News, which you can find here.
Stan took the opportunity to speak about the utopian process, and how important it is to believe, collectively, that a better future is possible, in order to achieve it.
"The more visions we have of a future where things are going right in some large sense, the more we believe in our hearts that we're headed that way as a consensus culture."
However, not much of utopia is found in fiction and literature, compared to dystopias that populate the SF genre (and in its filmic counterpart in particular!):
"The truth is it's really hard to write those kind of stories and we don't see enough of them," he said.
"Because of the utopian problem - the blueprint is boring whereas the disaster is more exciting. Making [sustainability] exciting is a double-bind, a particular problem that I wish more people would attack."
"Economics is the astrology of our time."
See previous post for the detailed program of events. Stay tuned for more.