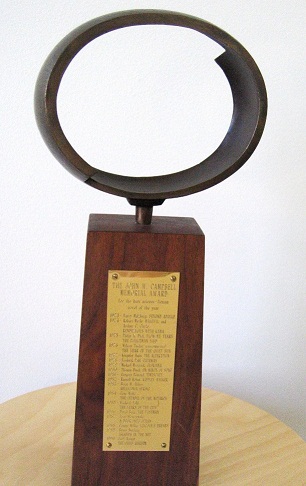 Kim Stanley Robinson's Galileo's Dream has been nominated for the 2010 John W. Campbell Memorial Award, for best science fiction novel! The full list of the nominees is:
The Year of the Flood, Margaret Atwood (Talese)
The Windup Girl, Paolo Bacigalupi (Night Shade)
Transition, Iain M. Banks (Orbit)
Makers, Cory Doctorow (Tor)
Steal Across the Sky, Nancy Kress (Tor)
Gardens of the Sun, Paul McAuley (Pyr)
The City & The City, China Miéville (Del Rey)
Yellow Blue Tibia, Adam Roberts (Gollancz)
Galileo's Dream, Kim Stanley Robinson (Ballantine Spectra)
WWW: Wake, Robert J. Sawyer (Ace; Gollancz)
The Caryatids, Bruce Sterling (Del Rey)
Julian Comstock: A Story of 22nd-Century America, Robert Charles Wilson (Tor)
The jury is a small committe consisting of Gregory Benford, Paul Di Filippo, Sheila Finch, James Gunn, Elizabeth Anne Hull, Paul Kincaid, Christopher McKitterick, Pamela Sargent, and T.A. Shippey.
The award will be presented during the Campbell Conference Awards Banquet, to be held July 16-18, 2010 at the University of Kansas.
Robinson had previously won in 1991 for Pacific Edge, and had also been nominated for The Gold Coast and Blue Mars.