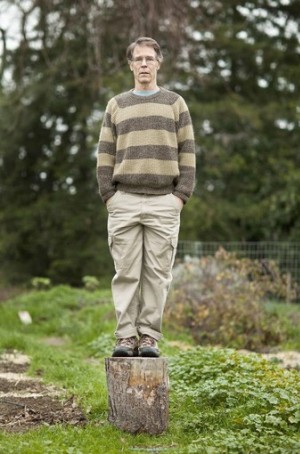 The Los Angeles Times interview Kim Stanley Robinson and offer many insights on his writing, his influences and his personal life in Davis, California. Excerpts:
It wasn't until he started reading Isaac Asimov, and later Ursula K. Le Guin, Samuel R. Delany and Gene Wolfe, that he discovered a genre to express what he'd witnessed. "When I started reading science fiction, I thought, 'This is me. This is about going from a human world to a machine world and becoming a cyborg,' " he has said. "I think of science fiction as the realism of California."
Over the years, Robinson has tilted away from the absolutism of the 1960s and tried to "reimagine what revolution" can be. In his novels, he posits a scientific, gradualist, nonviolent view of how progress can occur. [...] "The problem is that dealing with climate change is a Big Government issue, and ever since Reagan-Thatcher there's been this strong move to demonize government," he says. Climate-change rejecters and free-market ideologues "have done just what the Catholic Church did with Galileo. They've made the wrong choice and are going to have to crawl away from it, but the damage will have been done."
Robinson reckons that he knows about 200 of his roughly 1,000 neighbors, and has even served on the community's board of directors. He's fond of citing a quote attributed to Oscar Wilde: "Socialism will never succeed. It takes too many evenings."
I continue to gather reviews of Galileo's Dream here, be they professional like the magnificent piece by John Clute, or from casual readers -- now (with those from Amazon) numbering well over 60!
For more reading:
Stan's talk at Duke University last month sparked quite a discussion thanks to a post by biologist PZ Myers here.
Also, a review of The Lucky Strike by Cory Doctorow has sparked an interesting debate here.
Finally, the collection The Best Of Kim Stanley Robinson looks like it's headed to an Augut 15 2010 release.