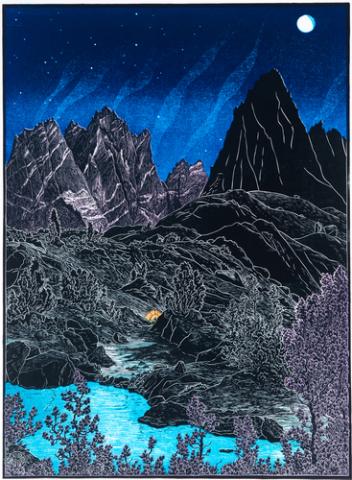 The year 2020 will bring another Kim Stanley Robinson novel! The Ministry for the Future, a novel where we struggle and steer the anthropocene towards a good direction, is scheduled to be published in the fall by Orbit.
But before we reach that date, there's another KSR publication first! KSR is the Guest of Honor at this week's Boskone 57 convention, and he brings with him a book specially for the convention that he will present on Saturday, by the New England SF Association Press: Stan's Kitchen: A Robinson Reader:
In this book, Stan offers you a rare treat, a selection of his favorite pieces of his own writing, which offers a unique view into important ideas within many of his areas of interest. Stan has chosen examples of his entertaining fiction, including a band disaster, an exploration of the idea of whether Vinland existed or not, how a curveball might work on Mars, and his final Mars story.

Also included are insightful and wide-ranging essays on Gene Wolfe, Cecelia Holland, Joanna Russ, Stanislaw Lem, George Orwell, Philip K. Dick, Ursula Le Guin, and Chip Delany that should make you want to run out to find and read more of their works.

You'll read of some of his optimistic and naturalistic visions of our world in essays on predicting the future, on utopias and dystopias, on his Antarctic adventures, on hiking experiences in the wild, and on the fight to name a mountain. This personal collection of prose and poetry is the next best thing to sitting in Stan's kitchen, sharing a cup of coffee and conversation with the master.

Dust jacket illustration "Isosceles Peak from Dusy Basin" ©2012 by Tom Killion
A nice collection of pieces that Stan has written for articles that have appeared in press or online, along with extracts from his novels and short stories! I see things from The Martians, The Years of Rice and Salt, Shaman, and more. The NESFA Press page has the full contents. The lovely cover illustration by Tom Killion is pictured above.
A couple of high profile interviews to kick off the year, both well worth the read:
KSR was interviewed by the New Statesman: "What the hell do we write now?". With the climate emergency becoming a more and more important issue, what can a novelist do? and what can a science fiction writer in particular do? and what does it mean to be a "pragmatic optimist" today?
"What the hell do we write at this point in history?" he asks. "My utopia has reached this low bar: if we avoid a mass extinction event, then, 'Yay! Leave it at that.'" [...]

"There's what I call the technocrat class, a kind of HG Wells scientific meritocracy, and it's for them to advise the political class: this will work, this won't work, try that," he says.

Failing to consult the technocrats can lead to "lunatic" suggestions, Robinson has found. The radical left's position of leaving the remaining wilderness entirely alone won't work, he argues, as climate change requires management. Yet interventions suggested by technophiles, such as sucking carbon out of the atmosphere with hi-tech "vacuum cleaners", are equally problematic.

Robinson favours actions with multiple benefits, from growing more forests, to supporting women's rights around the world and making agriculture "a carbon-negative business".
Continuing on the same trend, KSR gets coverage in no less than The Wall Street Journal! "A Sci-Fi Author's Boldest Vision of Climate Change: Surviving It" (paywall...).
How do you think the government's or the public's views of climate change have shifted since you wrote that book?

It has changed enormously and in a good direction. It is very encouraging. If I had made up the Paris Agreement [an international climate accord signed in 2016 from which the Trump administration has subsequently withdrawn the U.S.] in a science-fiction story 10 years before it happened, which I did not, everyone would have just laughed at me as a utopian, but that really happened.

There is more awareness of climate change as the overriding issue of our time. If we don't deal with it, we're inhorrific trouble. If we do deal with it, all kinds of other good will happen from dealing with it. That is almost a night-and-day situation from 15 years ago.
For more KSR writings: University of Minnesota Press has released An Ecotopian Lexicon by Matthew Schneider-Mayerson and Brent Ryan Bellamy (editors), looking at new words and concepts to describe our new anthropocenic situation, and it contains a Foreword by Robinson. See also here for an interview with Schneider-Mayerson.
Also, the Three Californias or Orange County trilogy is getting a re-release by Tor Essentials! The omnibus of some of KSR's first novels pile up to some 800 pages. The Wild Shore, The Gold Coast, Pacific Edge -- three possible futures for California and the world, ranging from the reconstruction of civilization in a post-nuclear war world, to the techno-urban Star Wars dystopia, to the long way towards an eco-utopia.
In an interview with Slate, KSR reminisces about writing the trilogy and his career-spanning effort to write novels that try to combine realism and utopia.
I began thinking of myself as a poet in the Snyder tradition before I discovered the science fiction.

The result [Pacific Edge] was so bizarre that I was dissatisfied on a number of levels, and I thought if you were going to do a utopia properly, it would need to be global, it would need to be historical. So The Mars Trilogy comes out of my dissatisfactions with the constraints I had set on myself with Pacific Edge. 

Utopias are like blueprints and novels are like soap operas.
You can read an extract from The Gold Coast here -- written in the 1980s, when the Cold War was still a thing, it is still very prescient in many things and 2020 readers won't find the automated cars highway jungle too exotic.
In news around KSR:
University of Illinois Press has released their latest book on their Modern Masters of Science Fiction series, edited by Gary K. Wolfe: Robert Markley's Kim Stanley Robinson! The study covers Robinson's early career wit hthe Three Californias all the way to recent works Aurora and New York 2140.
Award-winning epics like the Mars trilogy and groundbreaking alternative histories like The Days of Rice and Salt have brought Kim Stanley Robinson to the forefront of contemporary science fiction. Mixing subject matter from a dizzying number of fields with his own complex ecological and philosophical concerns, Robinson explores how humanity might pursue utopian social action as a strategy for its own survival.

Robert Markley examines the works of an author engaged with the fundamental question of how we—as individuals, as a civilization, and as a species—might go forward. By building stories on huge time scales, Robinson lays out the scientific and human processes that fuel humanity's struggle toward a more just and environmentally stable world or system of worlds. His works invite readers to contemplate how to achieve, and live in, these numerous possible futures. They also challenge us to see that SF's literary, cultural, and philosophical significance have made it the preeminent literary genre for examining where we stand today in human and planetary history.

Robert Markley is Trowbridge Professor of English at the University of Illinois at Urbana-Champaign. His recent books include The Far East and the English Imagination, 1600-1730 and Dying Planet: Mars in Science and the Imagination.
Finally, Matt and Hilary's Marooned! on Mars podcast has covered in perceptive and tireless detail the entirety of the Mars trilogy's collection of apocrypha, The Martians! What a feat, three novels and a companion volume in fifty one episodes. Up next: coverage of Aurora should start soon.
We close with a photo that is Ministry for the Future-related!...